What is commissioning?
Commissioning is the continual process of planning, agreeing and monitoring services. Commissioning is not one action but many, ranging from the health-needs assessment for a population, through the clinically based design of patient pathways, to service specification and contract negotiation or procurement, with continuous quality assessment.
The Integrated Care Board Commissioning Team commissions the health services provided to the population of Bedfordshire, Luton and Milton Keynes.
The Commissioning Cycle
How commissioning works within the NHS: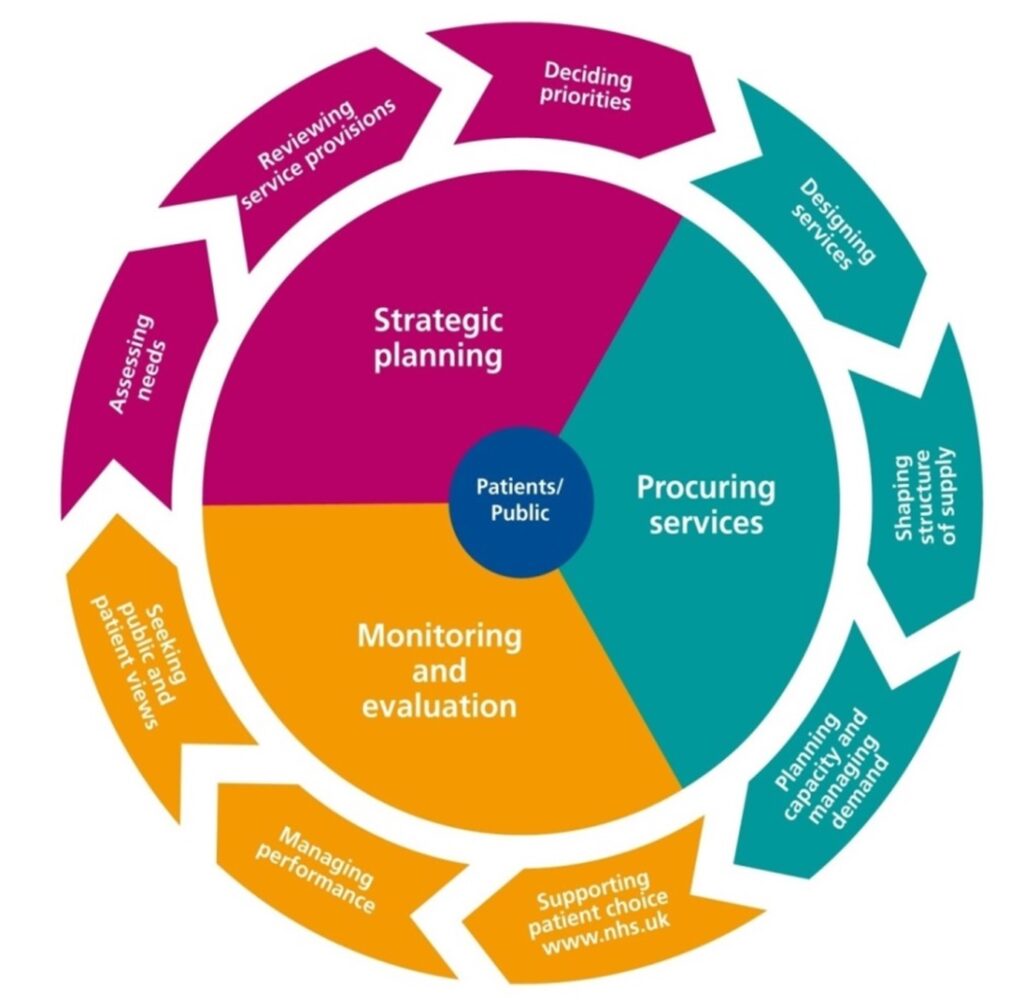 What we currently commission
We currently commission the following hospital, community and mental health services on behalf of local people.
Ambulance services, A&E & integrated urgent care (NHS 111 and GP out of hours)
Non-urgent hospital care
Community health services including community nursing, speech and language therapy services and wheelchair services
Rehabilitation services
NHS continuing healthcare
Maternity and new-born services (excluding new-born intensive care)
Children's healthcare services (mental and physical health)
Services for people with learning disabilities
Mental health services
Primary medical services (co-commissioned with NHS England). Download the Delegation Agreement in respect of Primary Medical Services
Contracting
In order to ensure commissioning decisions are implemented and are provided to the expected level of quality and performance, all commissioned services over £250,000 should be included within a formal contract.
In most cases (with the exclusion of primary medical services and non-clinical contracts), all contracts follow the NHS Standard Contract. This sets out the requirements any provider contracted by the NHS should reach, and ensures all providers are treated equally.
Within NHS Bedfordshire, Luton and Milton Keynes Integrated Care Board, we currently hold over 400 contracts for a wide variety of services, ranging from individual care arrangements for people requiring bespoke packages of care, to contracts with large acute, community and mental health providers covering a wide range of services across whole 'places'. To ensure we keep on top of these, we hold a "contracts register" which contains all key information included within it and publish our expenditure over £25K on a regular basis.
The contracting team is also responsible for procurement within the Integrated Care Board. Procurement at its most basic is simply the sourcing of services for commissioners, but again we conduct a wide range of activities in this arena, including market engagements sessions with prospective providers, the use of framework contracts to support specific elements of work, and open market testing/tendering for services. All this work ensures we are receiving the most economically advantageous service for our population. To ensure we are undertaking procurements in line with regulation, we have a comprehensive procurement pipeline which we manage with our external procurement advisors, Arden GEM Commissioning Support Unit.